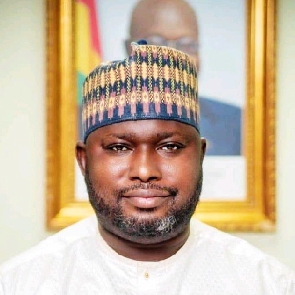 Member of Parliament for Tolon constituency, Habib Iddrisu, has called on Ghanaians to pay their taxes.
According to him, payment of taxes by citizens will help government finance its expenditure and projects outlined in the 2023 budget.

Speaking on Citi Breakfast Show and monitored by GhanaWeb Business, Mr Iddrisu noted that the introduction of new tax measures will help shore up the country's revenue.

"These are revenue measures to finance the expenditure of the budget…Our tax to GDP is still somewhere around 13, 14% in Ghana…We need to pay our taxes so that government will be able to use that to finance its programmes and its projects," he said.

"We [majority in parliament] supported this bill because it was part of the budget we supported…" Habib Iddrisu explained

It would be recalled parliament on Friday, March 31, 2023, passed three revenue bills, namely; Income Tax Amendment Bill, Excise Duty Amendment Bill, and Growth and Sustainability Amendment Bill.
The country will rake in GH¢3.96 billion when the aforementioned bills are implemented.

The Growth and Sustainability Levy is expected to raise approximately GH¢2.216 billion in 2023, while the Income Tax (Amendment) Bill, 2022 which amends the Income Tax Act, 2015 (Act 896) is expected to yield revenues of approximately GH¢1.29 billion.

The Excise Duty (Amendment) Bill, 2022 amends the Excise Duty Act, 2014 (Act 878) and is expected to yield approximately GH¢455 million.

Some Ghanaians, including the business community, have however tongue-lashed Members of Parliament for passing the three revenue bills.

Watch the latest edition of BizTech and Biz Headlines below:






ESA/MA