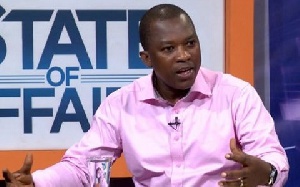 Former Member of Parliament for Ablekuma Central in the Greater Accra Region, Hon. Theophilus Tetteh Chaie has expressed disappointment over the inability of government to prosecute persons indicted in the arson attack at the Central Medical Stores.
Ghana lost its main drugs and medical supplies depot on January 13, 2015, but government is yet to prosecute some 12 persons found culpable following investigations into the fire that razed the Tema Central Medical Stores (CMS).

The facility which was insured contained every conceivable drug imported into the country including drugs for deadly diseases such as HIV/AIDS, tuberculosis, malaria and Ebola was estimated to be over GHS263million.

It was established after investigations that the CMS was intentionally set on fire. Some 12 individuals were cited for the arson attack.

They are Peter Ekow Gyimah, Former Head of CMS; Alhaji Yusif Inua, Member of the Interim Management Committee of the CMS; Iddrisu Abdul-Karim, Acting Head of the CMS; Gifty Esi Mankartha, Principal Pharmacist/Warehouse Manager.

The others are Zeboat Doh, Warehouse Manager; Ibrahim Laryeah Amartey, Line Warehouse Manager/General Pharmaceuticals Unit; Kwame Foli, Warehouse Manager and Mathias Senaya, Warehouse Manager/General Pharmaceuticals.
Victoria Anning, Senior Supply Officer/Project Stores; Abdul Karim, James Benjamin Annan, Pharmacist/System Analyst and Peter Atiba Addah, Storekeeper are those cited for prosecution.

However, these individuals have not been prosecuted. Commenting on it, the former legislator said there so many questions that we must ask our politicians to answer; because the CMS did not burn in a vacuum. People within the Ministry of Health played a role because there was a cartel that used to siphon drugs purchased by government.

''There was a cartel responsible for siphoning drugs from the CMS and those involved have not been prosecuted,'' he told Rainbow Radio's Kwame Tutu.

Mr. Chaie stressed, ''I am disappointed because we [politicians] failed to make sure all those involved were arrested. Up till now, not a single fly has been arrested in that matter. In other jurisdictions, suspects involved would be arraigned before court. The suspect may then request for a bail and if granted, we will all know that they [suspects] would be investigated and prosecuted.''

He charged the media to take up the matter and demand for accountability and until those involved, arae not punished, the media should not give up.