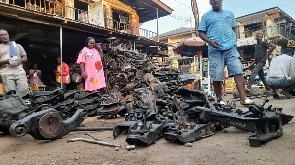 Some spare parts dealers in Abossey Okai are requesting that the government reduce the duty on spare parts.
The traders complained to Rainbow Radio 87.5Fm's Nhyiraba Kwabena Asirifi that the cost of duty has resulted in an increase in the price of spare parts.

They want the president to address this in his state of the nation address, which he is scheduled to deliver on March 8, 2023.

The dealers stated that it was their desire to sell their parts at a reasonable price.

However, the cost of duty on spare parts importation is high.

"We want him to announce a duty reduction on spare parts. Our pieces have been influenced by the cost of duty. We want him to take steps to reduce it would reflect in our prices. That is our challenge, according to a shop owner.
"We want him to reduce the cost of duty," said another. Because of the duty, spare parts are expensive. If the duty is reduced, we will be delighted. This would aid in lowering the cost of spare parts."

"If the cost of duty is reduced, our businesses will thrive. It would help lower prices and attract customers," said another trader.

President Akufo-Addo is scheduled to deliver the address on March 8, 2023.

The President was supposed to deliver the message on February 28, 2023, but it was postponed.

Alexander Afenyo-Markin, Deputy Majority Leader and MP for Effutu, said yesterday while presenting the Business Statement to the House that everything is now in place for the President to carry out his constitutional mandate.
"Mr Speaker, the President of the Republic is scheduled to deliver a message on the state of the nation on Wednesday, March 8, 2023, in accordance with Arti­cle 67 of the 1992 Constitution.

"Pursuant to the convention of this House, members are urged to be punctual and accordingly be seated in the Chamber latest by 9:15 a.m. as it may not be cour­teous for Members to enter or exit the House after the President has taken his seat in the Chamber to deliver his address. Indeed, that would amount to breach of protocol.

"Mr Speaker, the Business Committee takes the opportunity to advise members not to enter the Chamber with their guests," Mr Afenyo-Markin said.

The Deputy Majority Leader stated that the debate on the President's expected message would begin on Thursday, March 9, 2023, and would last six days, ending on Friday, March 17, 2023.