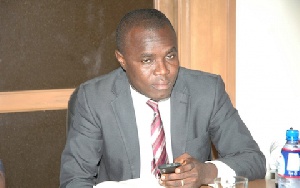 The Progressive People's Party(PPP) said it did not set to trap the Electoral Commission when it presented a banker's draft of the filing fee during filing of its Presidential nominee.
Policy Advisor of the party Kofi Asamoah-Siaw in an interview with Accra-based Citi FM indicated: "We cannot on our own remove some of the requirements. So we were expecting her[EC chair] to reject the fees."

The GHS50,000 filing fee for presidential nominees has become subject of litigation leading to an injunction placed on the fee by the PPP.

The EC has consequently restrained itself from collecting the banker's draft of presidential aspirants who submitted their nomination forms on Thursday September 29.
But the EC Boss, Charlotte Osei Friday gladly accepted the banker's draft of the PPP when the chairman of the PPP, Nii Allotey Brew-Hammond, presented it to her attached to the nomination forms of it's candidate.

The PPP scandalized on the motive of the EC's action has said it will go to court to challenge the decision of the election management body by Monday on the back of the injunction on the GHS 50,000 filing fees.