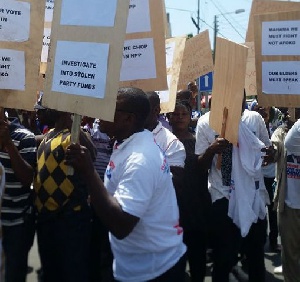 Some supporters of the New Patriotic Party, who thronged the party's headquarters to demand the reinstatement of the Paul Afoko, have denied claims that they were rented and bused to Accra to cause confusion.
Loyalists of the suspended national chairman of the opposition NPP Thursday besieged the party's headquarters in protest against his suspension.

But the deputy communications director of the party, Perry Okudzeto described them as aliens who were rented and not real members of the elephant family.

According to Okudzeto, the scores of people who thronged the Kokomlemle national office of the party were deliberately sent there to taint the reputation of the party.

But speaking on Morning Starr, Friday, Seidu Awudu a key member of the protesters told host Nii Arday Clegg that they are all NPP members who want the right things to be done in the party.
According to him, they were not paid to protest at the party's office to demand Afoko's reinstatement.

"I picked my own car from Kumasi to come to Accra…nobody paid us to come, and I didn't hear that anyone was given money," Awudu said.

Awudu, who said he is a constituency organizer and a polling station agent for the NPP said they want the party to unite ahead of the 2016 elections.