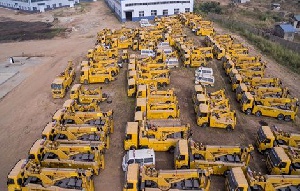 Alliance for Accountable Governance (AFAG), has joined the many voices opposing the mandatory towing levy introduced by the National Road Safety Commission (NRSC).
The NRSC announced in May, their intent to implement the compulsory mandate on July first as a means of ridding the country's roads of broken down vehicles that are abandoned and which can cause accidents. Following massive opposition from sections of the public and some politicians, the policy was brought before Parliament's Roads and Transport Committee of Parliament.

After months of deliberation, the committee approved the implementation of the fees and produced a report to that effect.

The Ghana Committed Drivers Association (GCDA) has served notice of a nationwide demonstration to push for the repeal of the recently passed mandatory towing levy after Parliament's approval. The Institute for Liberty & Policy Innovation (ILAPI-Ghana) has also urged government to follow the appropriate process in implementing the levy.

AFAG, in a press release on Thursday August 3, stated their displeasure at the enforcement of the policy by government, indicating their readiness to oppose it.

Below is the complete statement from AFAG

AFAG IS OPPOSED TO ROAD TOWING LEVY
Alliance for Accountable Governance (AFAG) is shocked that the compulsory towing levy. The levy raises serious questions that Parliament and theAkufo-Addo/Bawumia government needs to respond to as swiftly as possible.

The monopolization of the implementation of the towing service, to Road Safety Management Services Limited (RSMSL) is one major issue thatmust be properly considered. It is an affront to the NPP government, which prides itself as a supporter of creating a fair playing field for the actors inthe private sector space.

We believe that monopolizing this essential service will not be in the best interest of many Ghanaians. Giving 85% of the towing levy to only onecompany (RSMSL), which would have only 47 towing points across the whole country along only 7 highways is a high-tech robbery of the highestorder.

AFAG RESOLUTION

• AFAG is sounding a word of caution to the NPP government not to impose any form of inhumane road towing levy on motorists but rather enforcethe relevant laws that govern road and vehicle usage so as to reduce the accidents on our roads.

• AFAG urges government to abrogate the contract with RSML and open the space up for other competitors.
• Government should consider allowing insurance companies to take a central role in the towing space. Individual motorists should be allowed tochoose which insurance company to buy from.

• District assemblies should be allowed to manage towing services in collaboration with the registered towing companies. This would give theoperation a nationwide representation.

AFAG urges the government to abort the contract within 14days. Thereafter we would take all the necessary actions to bring home our message.

ALUTA CONTINUA!

VICTORIA ACETA!