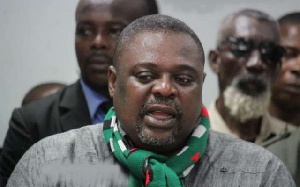 Deputy General Secretary of the National Democratic Congress, Koku Anyidoho says the NDC would soon bombard President Nana Addo Dankwa Akufo-Addo with petitions since he has exhibited tendencies of dealing swiftly with petitions.
"Very soon we are going to line up petitions to the president, and see whether he will be able to look at all of them. The precedent has been set; the floodgates have been opened. The president wants to be a conveyer belt, and we will make him work very hard as a conveyer belt, the petitions will just flow in," he told Sunrise host Winston Amoah.

Koku Anyidoho made this observation on 3FM's Sunrise morning show following the removal of Electoral Commission Chair, Charlotte Osei and her two deputies Amadu Sulley and Georgina Opoku Amankwa.

The three were removed from office following findings by a commission set up to investigate alleged cases of corruption brought against them by some workers of the Electoral Commission through a petition sent to the president.

According to the NDC Deputy General Secretary, the president should not have forwarded the petition to the Chief Justice, Sophia Akuffo to constitute a commission to look at the issue.

"There could be other ways of reprimanding. All things may be lawful, but it is not everything that will be expedient, the constitution is very clear on the functions of the commission."

"The law was made for man, not man for the law, you must sometimes go to the morality of governance, weigh the moral aspect of the law and apply it," Koku Anyidoho said.
He accused the president of being selective with which petitions to deal with or not, alleging that there is a petition against the Chief Justice, Sophia Akuffo but the president has turned a blind eye to that petition.

"The president is presiding over a government itself that has issues with procurement. IMANI has been talking about Kelni GVG contract, how many months, the president has pretended he has not heard and the minister of communication is still at post."

Koku Anyidoho further accused the NPP of deliberately "harassing" and "hounding" the former EC Commissioner.

He noted that the NPP as a party has an agenda against Charlotte Osei.

"They declared this while they were in opposition, and they said all kinds of things about the Chairperson and the Commission, some bordered on outright lie and fabrication about the voters register that it is made up of 1,000, 000 foreign voters, and then you vow that the woman will leave.