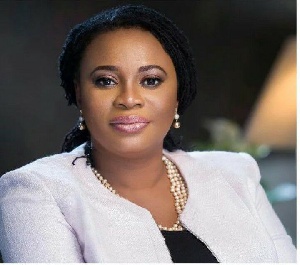 Some staff of the Electoral Commission (EC) whose action led to the removal of the chairperson of the Commission, Charlotte Osei and her two deputies, are pushing for the three to be prosecuted for procurement infractions among other corruption allegations.
Mrs. Osei and her two deputies, Amadu Sulley and Georgina Opoku Amankwa, were on Thursday, June 28 removed from office as Commissioners of the Electoral Commission (EC) by Nana Akufo-Addo on grounds of "stated misbehaviour and incompetence".

While their removal has been condemned by some Ghanaians as being politically motivated, especially by the National Democratic Congress, the workers lauded the President, Nana Akufo-Addo, for acting on the recommendations of the CJ's report to remove the three commissioners.

The staff say the removal of Mrs. Osei in particular is not enough and that they will adopt "all legal means available to ensure that her removal is permanent and cast in stone"

At a news conference Monday, July 9, 2018 the staff, numbering 16, argued aspects of the report of the Chief Justice's committee on their petition which bothers on criminality on the part of Mrs. Osei, should be forwarded to the Special Prosecutor for further investigation and possible prosecution.
"We shall leave no stone unturned in our quest to ensure that she faces the full effects of the law which she gleefully breached with wanton recklessness," the workers said at a news conference.

Accordingly, the workers said they have directed their lawyers to formally submit their complaint to the Special Prosecutor to go into the matter.

More soon