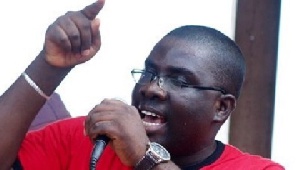 The executives and members of the Western Regional Branch of the New Patriotic Party (NPP) have declared their support for the candidature of Sammy Awuku as the person to handle the office of the National Organizer for the party.
Mr Sammy Awuku, who has been the Youth Organiser of the party, has demonstrated beyond any doubt that he is a key strategist, crusader and very good team player in all campaign activities leading to the party's victory in the 2016 general elections.

Mr Mohammed Abdul Ganiyu, the Regional Organizer for the party, told a press conference that "our faith in him remains unshaken. We believe Sammy will continue the fight against the National Democratic Congress's populism and help consolidate the gains of the NPP".

"Today, the Regional branch of the NPP announces its endorsement of Sammy Awuku for the National Organizer position. This decision was birthed after extensive consultation with all 26 constituencies in the Western Region", he said.

Mr Ganiyu said some of the traits of Candidate Awuku includes, being a team leader, unifier, energetic and hardworking, mobiliser as well as a good and experienced communicator and civic leader.
He said, as a National Youth Organizer, Mr Awuku worked with an unifying force, working with every person regardless of background, religion and gender adding, "he selects deputies from the North and West to demonstrate his progressive values for regional balance".

The Regional Organiser said Candidate Awuku leadership style came to bear when he was able to solicit for extra funds to supplement the party's budget in the 2016 campaign season.

He said, "We see Sammy as a marketing and communications professional with invaluable experience to manage large teams. He has fostered cooperative relationships with every person in and outside the NPP and we know, this is only the beginning".