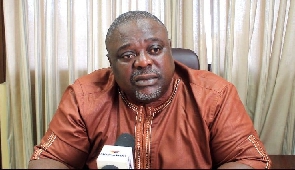 Former deputy General Secretary of the National Democratic Congress (NDC), Koku Anyidoho has asserted that he was labeled a traitor for standing up for what was right for the party, but now the same people who called him a traitor are calling the NDC MPs who supported Akufo-Addo's minister's traitors as well.
In a series of tweets, Koku Anyidoho argued that he was previously accused of creating issues within the NDC, however, the outcome of the ministerial approval had shown his innocence, demonstrating the cause of the party's problems as a case of poor leadership.

"They said Koku Anyidoho is a traitor, now they say our MPs are traitors, so who will be next?

"…so, is Koku Anyidoho the cause of the turmoil? It is now as clear as daylight that, I have never been, I am not, and shall not be the cause of any problem in NDC. The truth of the matter is that we have baaaaaad Leadership - and that is what is rocking the foundation," his post read.

Koku Anyidoho's remark comes in response to a social media list of NDC lawmakers who are rumored to have disobeyed the party's directives and voted to approve the president's ministerial nominees on Friday, 24 March 2023.

Prior to the vetting by the Appointments Committee of Parliament, the NDC had issued a directive to its MPs to reject the nominees in demand for a reduction in the size of the current government.
However, when the House conducted a secret ballot on the nominees, all six acquired overwhelming votes despite the equal numbers on both sides of the House.

The outcome of the voting process has led to accusations of treachery being made against the minority MPs.

Some members of the caucus have since taken to social media to express their disappointment with the result while others have sought to claim their innocence.

Watch the latest episode of The Lowdown below:


Meanwhile, catch up on the concluding part of Francis Addai-Nimoh's interview on GhanaWeb TV below:



AM/SARA