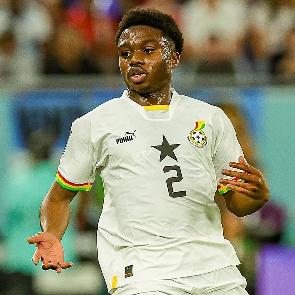 Brighton and Hove Albion defender, Tariq Lamptey has disclosed what informed his decision to switch nationalities from England to play for the Ghana senior national team.
Born and raised in England, Tariq Lamptey represented England at the youth level and was on close to playing for their senior team, the Three Lions but made a switch in 2022, ahead of the World Cup.

Tariq Lamptey recalled that his decision to turn his back on the Three Lions came when he visited Ghana in 2022 for his charity work.

According to him, many football fans showed him love and urged him to to play for the Black Stars. He noted that he finally decided to play for the Black Stars after he went to the Cape Coast Stadium to watch Ghana vs Madagascar match.

"I think one of the big things was when I was doing my charity last summer and you see the people and the amazing feeling they give you, I'm grateful for the support and that obviously made the decision," Tariq Lamptey said as monitored by GhanaWeb on Citi TV.
He added that his upbringing in a Ghanaian home also contributed to his decision-making process to play for the Black Stars.

"I don't even see it as a big difference only my dad and mum are from Ghana and I was brought up in a Ghanaian household and you have values from both England and Ghana, you get the best of both to be honest," he stated.

Tariq Lamptey joined the Black Stars in September and was part of Ghana's squad at the 2022 FIFA World Cup in Qatar.

JNA/KPE