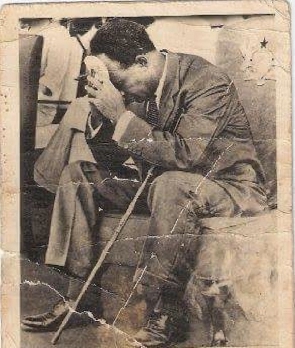 During the celebration of Ghana's 7th Independence Day in 1964, a young 13-year-old girl experienced fate that would forever leave her in pain.
Excited about the fact that she was selected among many school children to present a bouquet to Ghana's first president, Osagyefo Dr. Kwame Nkrumah, the young Elizabeth Asantewaa did not know the day that was supposed to be one of her best, would put her on the near brinks of death.

Speaking in a 2021 video, she told Citi TV that till date, she has no idea where the explosion came from; whether it was in what she was holding, or from any of the students around her, but all she remembers is that the explosion sounded like knockouts.

When it happened, she said she was thrown up into the air and when she hit the ground, she was in extreme pain and could only call out to her mother at that moment.

She also recalls how she saw the lifeless bodies of several of her other schoolmates lined up at the Accra Sports Stadium, where the ceremony was taking place.

"The moment he arrived, they played the national anthem and we were asked to march. Let's assume where the gentleman is sitting, and we were also coming from this side. So, when we got there, we stretched our hands to greet him.
"I was holding something that looked like flowers and I presented it to him… Nkrumah was holding a stick while standing on the platform with the Big Six. He looked up and shook his head and he said they should leave. The man didn't say anything and they went.

"If I had succeeded in shaking him, he would have died. I saved his life… I don't know where the bomb was. Besides, the students were many. The man got down from the stage and didn't utter a word: I think Nkrumah had a third eye.

"When he left, it wasn't even ten minutes after and we heard series of explosions where we were standing. It took me up in the air and brought me down. I was badly wounded, with blood running all over my head. A hole was created in my calf with bullets and it was really hurting. I shouted and asked where my mother was… I was burned to the point where you could see my bones," she narrated.

Elizabeth Asantewaa continued that it was taking forever for an ambulance to get to her and so one of the teachers, who had a car, opted for his car to be used to convey her to the 37 Military Hospital.

At the hospital, and in an attempt to save her life, her left leg had to be amputated.
She also recalled how, surprisingly, she was told that Kwame Nkrumah had come to the hospital to visit her.

She added, in another interview on another channel, that the visit was a very emotional one, with Nkrumah crying by her bedside.

"I was at the hospital and in real pain when I was told that the president was there to visit me.

"I couldn't believe it, but it was true; I saw him by my bedside and in our conversation, he started crying and I saw tears in his eyes," she narrated.

Although Kwame Nkrumah promised to help her through life, the overthrow of his government in 1966 cut that dream short, and since then, Elizabeth Asantewaa said she has struggled to get proper attention from state authorities.
You can also watch this episode of People & Places on GhanaWeb TV here:



AE/BB