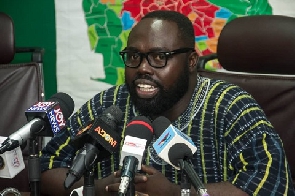 Deputy general secretary of the opposition National Democratic Congress (NDC), Peter Boamah Otukonor, has charged President Akufo-Addo to as a matter of urgency withdraw the Comprehensive Sexuality Education (CSE) course from being taught in basic schools and stop hiding.
President Akufo-Addo over the weekend stated that no 'inappropriate' things will be taught our children under his watch as a president.

He said, neither he nor his government has any intention of smuggling "inappropriate" things into the curricula of schools.

But reacting to the issue on Accra based radio Okay FM Monitored by Ghanacrusader.com, the chief scribe called on the president to be explicit on the matter and stop hiding.

According to him, President Akufo Addo has said nothing regarding the issue of the Comprehensive Sexuality Education (CSE).

"For us NDC, the President has said nothing. He should be bold enough to with draw the CSE and stop playing hid and seek," he said.
President Akufo-Addo, he said, is the "lead anchor" for the introduction of LGBT in Ghana and referenced his controversial comment in an interview with Al-Jazeera in November 2017 on legalisation of homosexuality.

The President claimed there isn't sufficient activism on the legalisation of homosexuality in Ghana but if such advocacy proves strong, then it is "bound to happen"

Mr. Otukonor lamented that the comment showed the President subtly supports deviant sexual lifestyles, therefore if he and his government are now denying the introducing of such behaviour into our basic schools, then he is surprised.

"The earlier the president comes out explicitly on the issue for Ghanaians to know their policy direction on homosexuality like former President Mills and Mahama did, the better for all of us," He said.