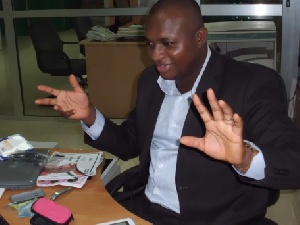 The Ashanti Regional Youth Organiser of the opposition National Democratic Congress (NDC) Brogya Genfi, has suggested to the President Nana Addo Dankwa Akufo-Addo to withdraw Retired Major Derek Oduro's nomination as Deputy Defense Minister.
Major Derek Oduro speaking to Nana Aba Anamuah on State of Affairs defended military brutality on a freelance journalist saying military officers will continue to instil discipline in 'loud-mouthed' journalists.

But speaking with Kwame Adinkra on Abusua FM's Abusua Nkommo, Mr Genfi said the Deputy Defense minister's position on the case does not befit the calibre of the Retired military capo.

According to him, the Minister designate has been creating controversies ever since the New Patriotic Party (NPP) took over power.

'His posture has not been the best ever since the NPP took over power. How can Major Derek Oduro be jumping in the defense of the military for assaulting the freelance journalist when he has not even been vetted by the Appointments Committee, talk less of being approved by Parliament?,' he asked.

The Regional Youth Organiser of NDC bemoaned the comments by the Chairman of the Defence Committee of Parliament for doubting that the journalist is still alive after being beaten within 40 minutes.
'How can the defense minister designate who will be working closely with the military be taking this stance? when military brutalities on civilians have been going on for years in the country. How is he going to liaise with civilians and the military with this posture?,' he asked.

A livid Brogya described Major Derek Oduro as an 'autocratic' who does not give opportunity for others to express their views calling him to be mindful of his utterances.

He feared that the number of military brutalities in the country will go up if the minister designate is vetted and approved.

'I am advocating for his withdrawal as the Deputy Defense Minister. I wish the President will rescind his decision and give that position to another person. He should be nominated to a different ministry or department, he could even be appointed to the Agric ministry, because the number of military brutalities will go up if he is approved by Parliament after his vetting. People are bound to live in fear because of him especially when the substantive Minister Dominic Nitiwul is not a former soldier against an autocratic Deputy Minister who is an old soldier,' he pointed out.