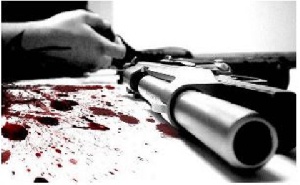 A 41-year-old woman has been shot dead at Alavanyo Deme in the Hohoe Municipality in the Volta region.
According to reports, the incident occurred after an unidentified assailant opened fire in the conflict volatile community.

A second victim, an 80-year-old woman who sustained gunshot injuries, has also been rushed to the Margaret Marquart Catholic Hospital at Kpando, where she is responding to treatment.

Starrfmonline.com has gathered that the deceased, identified as Rejoice Atta Yaw was returning from the farm on Monday when she was shot at the entrance to her house.
The latest incident, adds to a long list of similar killings in the area, which has been under years of curfew due to conflicts with its neighbour, Nkonya.

Starrfmonline.com has also gathered that a joint Police and Military peacekeeping team has been dispatched the town to avoid a reprisal attack.

The Interior Ministry last week reviewed the curfew hours in the Nkonya and Alavanyo townships, from 6:00 pm to 6:00am effective Sunday, 6th May, 2018 on the advice of the Regional Security Council.