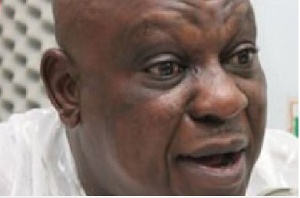 Editor of the Al-Hajj newspaper and a self-confessed sympathizer of the opposition National Democratic Congress (NDC), Alhaji Iddrisu Bature has asked members of the NPP to stop wasting time assuring Ghanaians of their fight against illegal mining operations popularly refered to as galamsey.
To him, leaders of this NPP government are very much aware of persons who are practicing illegal mining, and named the Ashanti Regional Chairman of the New Patriotic Party (NPP), Bernard Antwi Boasiako, aka Chairman Wontumi, as one of those actively involved in the practice.

According to him, he gets confused asking himself a lot of questions when they pretend and promise going to look for the illegal miners.

To him, it is a waste of state resources in deploying drones and other modern technology to tackle illegal mining problems in the country as the minister of Lands and Forestry, John Peter Amewu had earlier indicated.
"President Akufo-Addo and his government keep making noise about Galamsey from different angles when they are very much aware that the Ashanti Regional Chairman of the New Patriotic Party (NPP), Bernard Antwi Boasiako, aka Chairman Wontumi, is vibrantly in-charge of galamsey. Indeed he is the president of galamseyers who has all the big machines used for working in the sector," Alhaji Bature said.

In an interview with UTV's 'Adekye Nsroma' political panel discussion show, Alhaji Bature furiously emphasized that, "Why should President Akufo-Addo and his government pretend and continue making noise disturbing our peace when the person responsible for the chaos always stands by him."