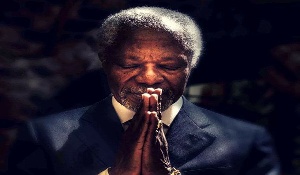 World leaders yesterday paid their last respects to one of Africa's most famous diplomats, Busumuru Kofi Atta Annan, as they bade him farewell at his funeral at the Accra International Conference Centre (AICC).
It was the climax of three days of national mourning which saw thousands of Ghanaians and the diplomatic corps file past his coffin as it lay in state. Mr Annan died on 18 August, 2018 in Switzerland at the age of 80.

Mourners in traditional black and red attire filed the main hall of the AICC, which sits about 4,000 people. More also watched proceedings on a giant screen in an auditorium just outside the hall.

Several heads of states from various countries who graced the occasion included: President of Namibia, Dr. Hage G. Geingob, Vice President of Angola, Bornito Sousa Baltazar Diogo, and Thani Hamad Hkalifa Hama Al-Thani, brother of the Emirof Qatar.

The rest were President of Liberia, George Oppong Weah, President of Sierra Leone, Julius Maada Bio, Prime Minister of Nigel, Bright Rafani, and Prime Minister of Niger, Brigidi Rafini.

Others were Mr Alassane Ouattarra, President of Cote d'Ivoire, President of Zimbabwe, Emerson Mnangawa, Prime Minister of Lesotho, Pakalitha Mosisilo and several representatives from various organisations.
The former Queen of the Netherlands, Princess Beatrix, and her daughter-in-law Princess Mabel, who were close friends of Annan, were among the mourners. UN Secretary-General, António Guterres, who was also present paid glowing tribute to a man who once occupied the seat.

Describing the former UN boss as one of a kind, the current UN boss said those in despair always found in Kofi Annan a comforting shoulder to lean on.

"The art of diplomacy is to say nothing, especially when speaking, but Kofi Annan will say everything, sometimes by simply saying nothing," he said. Mr Guterres said even though Mr Annan's voice was spectacularly gentle, his words were tough and wise.

He said the gravest the situation Mr Annan faced, "the lowest the voice." The UN secretary-general, who worked with the late Kofi Annan for many years, praised the late iconic diplomat as a courageous man who spoke truth to power. Not only that, he was a force for good in a world of ills.

Touching on their personal relationship, Mr Guterres said Mr Annan "was a good friend, we marched together, he from the UN and I from Portugal."
The former Portuguese Prime Minister who now walks in Kofi Annan's shoes said, he was inspired by the integrity and dynamism of the Ghanaian.

"If we listen, we will still hear the wise words of Kofi Annan," admonishing us to "take care of each other and our planet," he said.

For his part, President Akufo-Addo said the late former United Nations secretary-general gave him sensitive advice when he took over as President of Ghana.

Mr Akufo-Addo said he appreciated the advice from the late diplomat.

"He gave me sensitive, deeply appreciated advice when I became President of the Republic," Mr Akufo-Addo said when he read his tribute at the burial service.
The wife the late Kofi Annan, Nane Lagergren, Kofi Annan said: "I remember how excited he always was to return home to Ghana. He would always be so happy," said Nane.

"He tried his best to make the world a better place in our homes, or villages, our towns and our communities….my Love, may you rest in peace and continue to inspire us and guide us."

The funeral rites also saw Vice President, Dr Mahamudu Bawumia; Archbishop and Bishop of Kumasi, Daniel Yinka Sarfo; Director of Religious Affairs of the Ghana Armed Forces, Paul Adjei-Djan; Annan's wife Nane Lagergren and Annan's children, Kojo Annan and Ama Annan.

Tributes also poured in from family, friends and loved ones for the late Ghanaian diplomat.

The ceremony began with a welcome address and prayer from the Archbishop and Bishop of Kumasi, Daniel Yinka Sarfo, and the former Archbishop and Bishop of Accra, Justice Ofei Akro.


Opera singer, Barbara Hendricks, opened the ceremony with a solo-entitled: "Oh Freedom."

The Winneba Youth Choir performed the anthem "Edikanfo Mmo," Reverend J.O. Akrofi delivered the sermon.