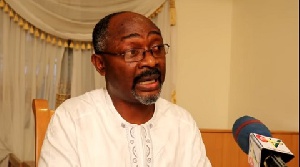 Embattled businessman, Alfred Agbesi Woyome has filed another application for stay of proceedings requesting for 5 Supreme Court Justices to hear his case and not one.
Mr Woyome who was absent in court Monday, was supposed to have his cross-examination continue today.

Kasapa FM's Court Correspondent, Daakyehene Ofosu Agyeman reported that Mr Woyome's application will be heard on November 21.

At the previous hearing, the Supreme Court dismissed an application by Alfred Agbesi Woyome seeking to stop the state from evaluating his properties as a means of settling the GHc52.1 million judgement debt.

Justice A Benin, a sole Supreme Court judge ruled that the application lacks merit and therefore fails.

The court directed counsel of the judgement debter, Osafo Buabeng to write to the Chief Justice if he intends to set aside the proceedings
It would be recalled that last month, Security operatives including armed soldiers and personnel from National Security numbering about 20 in all, besieged Mr Woyome's residence. They were there in the company of officers of Ghana Valuation Board who had been assigned by the Attorney General to value Mr Woyome's Kokomlemle property. The official possessed a warrant dated 13th September.

Officials of Lands Commission had been earlier summoned by the Supreme Court to testify in the cross-examination of the embattled businessman over the questionable judgment debt paid to him.

The invitation of the commission was necessitated by a disagreement between himself and Deputy Attorney General Godfred Dame over the ownership of a building located at Kokomlemle in which he currently is occupying.

Mr Woyome had denied in court that he owned the building and that the property belonged to his brother. The only building he claimed belonged to him is one located in Abelemkpe, a suburb of Accra.