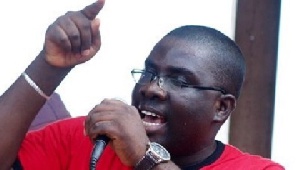 The Board Chairman of the Youth Employment Agency (YEA) Sammy Awuku has made a staggering revelation that a whopping GHC 8million was 'wasted' on a sensitization programme organized in October 2016 by the Agency.
According to him, a huge amount of GHC 40,000 was also spent by YEA to organize a press conference in the Volta Regional Capital, Ho, wondering if even the Bank of Ghana will be such reckless in spending state funds.

Sammy Awuku who's a youth icon and currently the National Youth Organizer of the New Patriotic Party (NPP) made the disclosure on Peace FM Thursday while commenting on the report by the Public Interest and Accountability Committee (PIAC) which revealed that oil-funded projects in the three Northern Regions in 2016 are nonexistent.

He added that sooner than later the details of how reckless YEA funds were misused under the Mahama administration will be made available to the public, adding that public officials must be thrifty in spending state funds.
"In October 2016, YEA embarked on sensitization programme and voted GHC8.1 million for that exercise supposedly to publicize YEA in all the ten regions. Again, YEA spent a staggering GHC40,000 on a press conference in Ho. They met Chiefs in Ga Mashie and spent GHC35,000.

"When it comes to the public purse, applying the money in there must be done with serious caution especially in a country like Ghana which is not sick yet not healthy because we're still striving to get out of our economic woes in order to provide jobs for our people. There little money in the coffers must be used wisely. I'm just giving highlights, I'm sure very soon some of the breakdowns of what I'm talking about will come out, some really hurts. Apart from the Greater Accra and Ashanti Regions, I'm sure it is hardly the case that GHC10,000 will be spent on a single organized press conference. Even the Bank of Ghana, how much do they spend on a Press conference."