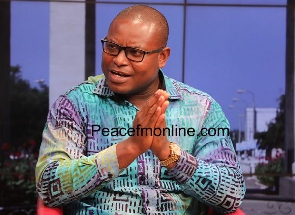 It is "greed", the Executive Director of pro-government think tank Danquah Institute, Mr Richard Ahiagbah, has said in reference to the high-profile politicians who benefited from Ghana Education Trust Fund scholarships.
The high-calibre government appointees who benefited from the scholarship between 2014 and 2018, at the expense of the needy-but-brilliant for whom the GETfund was set up, according to an audit report by the Auditor-General, include Dr Matthew Opoku-Prempeh, Education Minister; Sarah Adwoa Safo, Procurement Minister and Deputy Majority Leader in Parliament; Ignatius Baffour-Awuah, Employment and Labour Relations Minister and Mr Prince Hamid Armah, Executive Secretary of the National Council for Curriculum and Assessment (NaCCA).

Dr Prempeh received US$11,200 and US$12,800 as tuition fee and living allowance, respectively, for a National and International Security programme at Harvard University.

Ms Safo also received US$17,004 as tuition fee and US$12,800 as a living allowance for a training programme at Harvard Kennedy School.

Mr Baffour-Awuah, who studied BA, International Relations and Politics at the University of Portsmouth, UK, also received £11,800 as tuition fee and £12,710 as a living allowance.

Dr Armah also received £33,000 and £38,400 as tuition fee and living expenses, respectively, for his Philosophy in Education programme at the University of Aberdeen.


Apart from Mr Baffour-Awuah, who is yet to make any public comments on the matter, the other three have justified their receipt of the scholarship awards.

Civil society groups and Ghanaians have widely condemned the high-profile beneficiaries for competing with and crowding out the needy-but-gifted for whom the fund was set up.

Speaking to Felicity Naana Nelson on Class91.3FM's Straight Talk programme on Thursday, 27 February 2020 about what he made of the scandal and what could have fueled the receipt of the scholarship award by the high-ranking public officials, Mr Ahiagbah said: "Greed; that's all I would say about it", explaining: "Greed, to the extent that the motive for it is clear".

"I'm not judging individuals by their standing but I'm judging individuals by their standing to say that if you have the means to do it, then don't go for it; if you do that, it's greed", Mr Ahiagbah emphasised.

Asked if the high-profile beneficiaries should be sanctioned, Mr Ahiagbah said: "I think it's above my paygrade to say so, but my feeling, honest feeling, is that at a point, where there are a thousand and one people that needed it – I've applied for GETfund before – the point of it is that if you hear, increasingly, the number of people who are in need of it, extremely in need, and are denied because they don't have that influence that allows for it to go their way and I think that if it's so much that the people with influence have crowded the space, so much that people who need it can't get it, I think it's not helpful".