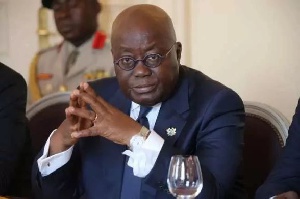 A chairman of the National Peace Council has defended President Nana Akufo-Addo for removing Ghana's Electoral Commission chairperson Mrs. Charlotte Osei and her two deputies.
Prof. Seth Opuni Asiamah who is the Ashanti Regional Chairman of the Council argued in an interview with TV3 Sunday that Nana Akufo-Addo couldn't be faulted for sacking the three commissioners as he did so through due process.

President Akufo-Addo on Thursday removed Mrs. Charlotte Osei and her two deputies, Amadu Sulley and Georgina Opoku Amankwaa from office on grounds of "stated misbehaviour and incompetence".

It followed the recoomendations of a committee set up by the Chief Justice, pursuant to Article 146(4) of the Constitution, to investigate separate complaints brought against the three persons by some workers of the Commission.

"The Constitution mandates the President to do what he did. There is a process that he went through to arrive at the decision that he took. Therefore, one cannot fault him for the decision he took" Prof. Opuni Asiamah said.

He has thus described as unfortunate, the stance taken by the National Democratic Congress, which has condemned the President and threatened to demonstrate against him to reinstate the three commissioners.
For him, though Mrs. Osei conducted a successful election in 2016 the NDC must accept the fact that the President did nothing wrong by following the recommendations of the Chief Justice's committee to remove the three.

"Even though former President Mahama appointed Charlotte Osei, he did not do so for her to come and do his bidding so the NDC position of making the country ungovernable if Charlotte is not reinstated is most unfortunate," he said.

Prof. Opuni Asiamah has meanwhile cautioned the President not to appoint people who will do his bidding but those who will work to serve the interest of the public.



"What I'll caution the President [against] is that, he has the opportunity to appoint all the seven commissioners before the next election, he should appoint people who will serve the best interest of the country and not do his bidding," he advised.
Adding his voice to the issue, the Kumasi Diocesan Bishop of the Methodist Church, Right Reverend Christopher Andam commended Mrs. Charlotte Osei for successfully conducting the 2016 elections.



He, however, said the decision taken by the President should be respected.

"Since the President made the decision based on the recommendations of the investigative committee, we should all respect it. The EC Chairperson did well in the 2016 elections but it's unfortunate the President had no choice than to follow the recommendation".