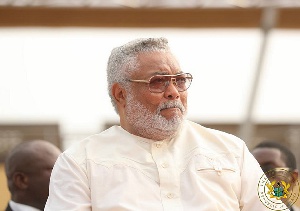 FORMER PRESIDENT Jerry John Rawlings has slammed critics who sought to downplay his views on the spate of armed robbery incident in the country.
The ex-military leader in a tweet fumed:" None of them are in a position to recognise security related power play better than me."

In the wake of the increased robbery and violent crime, Former President Rawlings said he hoped the heightened insecurity was not politically motivated.

"Let us hope the recent robbery and killings are downright plain robbery and not a politically motivated action from within or without, calculated to undermine those in charge of the security machinery in order to pave the way for certain parochial ambitions," the former President stated.

But, his concerns over the recent spate of armed robbery in the country angered a section of the main opposition National Democratic Congress (NDC) members.
The founder of the NDC has been taking the flak for the comment he made from members of his party. Commenting on the reaction in relation to his robbery statement, Mr Rawlings said:"Loud and timid minds incapable of recognising the most obvious desecration of Ghana's pride, cannot and should not expect to be able to know or see what I see-much more to downplay it."

Meanwhile, President Nana Akufo-Addo has directed the Finance Minister to release funds for the purchase of the state-of -the-art equipment for the country's security agencies, especially the Police Service.

Additionally, he asked that the joint Police/Military patrol be intensified to cover every part of the country. The Directives were issued following a meeting between the President and the nation's security chiefs to deliberate on the recent upsurge in robbery activities in some parts of the country.