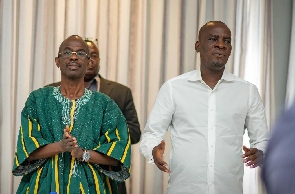 National Chairman of the National Democratic Congress (NDC) Johnson Asiedu Nketiah has revealed that changes to the NDC leadership in Parliament needed to take place in March 2021.
The process delayed till last month when the party notified Parliament of changes which included replacing Haruna Iddrisu with Cassiel Ato Forson as Minority Leader.

The party also replaced Haruna's deputy and Chief Whip.

Addressing concerns about the timing of the party's changes, Asiedu Nketiah said the changes had actually delayed by two years.

"We needed to have done these changes as far back as March 2021, we've delayed and the closer we got to elections, the more difficult it will become to implement such changes and we think that that is the best time to go about the changes.
"The leadership that we have just changed, they've done their part. We needed them at the time we chose them, we felt that they possess the skill set that could meet the challenges as at that time and they discharged their work creditably.

"Now, we are facing new set of emerging challenges and so it is only reasonable to go for a new set of leadership that possesses the skill set that will be able to discharge the responsibilities that have emerged because of the changing times," he told party faithful in London last week.

SARA