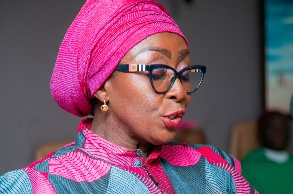 The Member of Parliament for Ketu South, Abla Dzifa Gomashie, has accused the sitting president, Nana Addo Dankwa Akufo-Addo, of collapsing state institutions like the National Disaster Management Organisation (NADMO) and the local governance system.
She lamented that the above institutions, which are supposed to come to the aid of displaced and struggling people in the country, for instance, those affected by floods in her constituency, have now been ill-managed so much that they rather need help.

The frustrated and audibly-angry MP told JoyNews in an interview on Monday, October 2, 2023, and monitored by GhanaWeb, how she has been drained of all that she has.

She also described her frustrations in getting state authorities in charge of seeing to the welfare of the people to come to their aid but without any success.

To this end, she, damning any protocols or consequences, suarely placed the blame at the feet of the president, Nana Akufo-Addo, of collapsing the local governance system.

"… I do not care how it lands in anybody's ears or heart. President Nana Addo and his government have collapsed not only NADMO, they have collapsed the local government structure.

"This assembly here (Ketu South Assembly) is so toothless, they cannot even provide a bag of rice or corn. They have not provided one bag of rice or corn in the whole period that this has been going on. Everything you (the president) are collapsing. I wish that I don't have to raise my voice when I'm speaking but I'm so up my nose in this mess that we find ourselves in, I cannot sleep," she stressed.
The Ketu South area has been at the center of a lot of cases of floods destroying communities but not much help – if not any, has been extended to her and her constituents.

She also appealed, for the umpteenth time, for the government to focus on completing the sea defense wall in the area, as well as along other communities like Keta, so that a permanent solution can be brought to her people.

Earlier, Dzifa Gomashie also stated how the Vice President of Ghana, Dr. Mahamudu Bawumia, had been in the constituency only a few weeks earlier to campaign in his bid to become the flagbearer of the New Patriotic Party (NPP), but had not bothered to visited the affected people in the constituency.

Meanwhile, watch the situation of the devastation that had been caused in Ketu South when GhanaWeb's Etsey Atisu visited the community in 2021 to report on how tidal waves had destroyed properties:>



Ghana's leading digital news platform, GhanaWeb, in conjunction with the Korle-Bu Teaching Hospital, is embarking on an aggressive campaign which is geared towards ensuring that parliament passes comprehensive legislation to guide organ harvesting, organ donation, and organ transplantation in the country.
Click here to start the nomination process for the 2023 GhanaWeb Excellence Awards

Meanwhile, watch the story of Enoch, who has been on dialysis for 8 years, as he details his daily struggles, in this SayItLoud on GhanaWeb TV video with host, Etsey Atisu, below:



AE/OGB