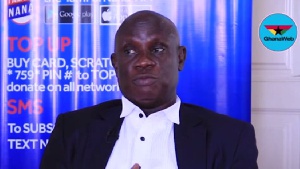 Deputy National Secretary of the governing New Patriotic Party(NPP), Nana Obiri Boahen has been alerted to ready himself for serious and merciless beatings of his life if the upcoming elections turn chaotic.
In a Press Conference held by the Youth Wing of the NDC in the Bono Region through a Facebook live broadcast, the Bono Regional Youth Organizer, Efo Walanyo Tsekpo issued a stern warning to Mr. Boahen to be mindful about his public utterances because they were no longer going to tolerate his ''nonsense''.

The anger towards the NPP scribe emanated from comments he made and reported that he will ensure anyone who disrupts the pending new voters register registration will be 'beaten' especially the NDC Youth.

But the Bono NDC without mincing words assured him that they were ready for him and his boys if they attempt any violent act.
"We've heard Nana Obiri Boahen saying that NDC that's the Youth Will be beaten until blood starts oozing from their nose . We want to assure Obiri Boahen wherever he is that if anything happens , he will be the first person to recover his first share of the beatings . We are promising him that because we can't allow this government to shield our fundamental human rights . We are going out there and we are prepared. We want to assure him that we are prepared for Obiri Boahen and his boys.we will not sit down , they have taken NDC as a dormant party " he said emphatically.

According to the NDC Youth , they have been intimidated by the NPP for a very long time to an extent that has reached an explosive point hence, whatever actions the NPP will take against them, they will multiple such actions to them.

"Over the years this nonsense has happened where NPP always sits on the neck of the youth in NDC. We will not allow that to happen again. When they slap us once , we will slap them twice. That nonsense will cease in this region and if Abronye likes,all the nonsense he has been doing he should continue doing it and he will see that we have men in the region who will not allow that to happen again"