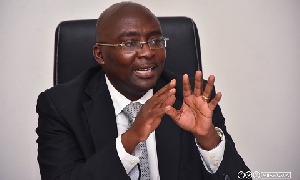 Vice-President Dr Mahamudu Bawumia has urged Ghanaians to reject the opposition National Democratic Congress (NDC) in the 2020 polls because they ran the economy down while in office.
"The NDC in government, after eight years in office, is one that Ghanaians could and should no longer tolerate," he said in his keynote address at the 4th National Policy Summit in Tamale on Monday, 24 September 2018, on the theme: ''Assessing government's flagship programmes".

According to Dr Bawumia, under the NDC administration, there was high unemployment rate, a high fiscal deficit of 9.3 per cent of GDP in 2016 coupled with a high public debt which pushed the debt-to-GDP ratio to 73.1 per cent.

In his view, the NDC superintended a failing National Health Insurance Scheme (NHIS), a weak banking sector and high unemployment situation.
Dr Bawumia said: "The NPP, under Nana Addo Dankwa Akufo-Addo, promised among other things, to change the education system, to introduce free senior high school education, to change the management of the economy from the focus on taxation to the focus on production, to change from most districts with no factories to a philosophy of one district-one factory, to change from a situation where most villages in the north have no dams to a position of one village-one dam, to change from the predominance of sole-sourcing from public procurement to tendering in procurement, to change from the abolishing of teacher trainee allowances to the restoration of teacher trainee allowances, to change from the abolishing of nurse trainee allowances to the restoration of nurse trainee allowances, to change from a highly informal economy to the formalisation of the economy through digitisation, through the issuance of a national ID card, through the implementation of the national digital addressing system…to change from the rising debt-to-GDP ratio to the declining debt to GDP ratio, to change from a weakening banking system to a stronger banking system."

Under the Akufo-Addo government, he said, Ghana's economic outlook has improved.

"This was confirmed last week by Standard and Poor's, a global rating agency which has upgraded Ghana's ratings, sovereign credit rating from B- to B with a stable outlook. And, this is the first upgrade that Ghana has received in 10 years. In fact, we should recall that the NPP under President John Agyekum Kufuor left office with Ghana's rating at B . After eight years of the NDC's economic management, our ratings went from B to B-. This is after eight years! After only 20 months of new NPP government under Nana Addo Dankwa Akufo-Addo, we have been upgraded from B- to B ," he said.