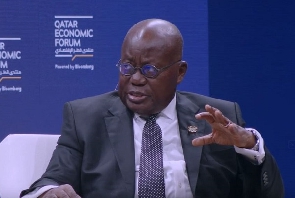 President Akufo-Addo has come under fire from the Member of Parliament for Builsa South for asserting that his fight against corruption is more effective than any other administration in Ghana's post-independence history.
The lawmaker deemed the President's claim to be a mockery of the presidency's sacredness.

He also referred to the remarks as a joke coming from a man who promised to deal with corruption using the Anas principle but has turned out to be someone who supports corruption and has no intention of dealing with it.

President Akufo-Addo claims that his government has made the most significant efforts against corruption since Ghana gained independence.

According to the president, his administration has taken the most daring anti-corruption measures.

He emphasised that no government has been able to accomplish what he has in the fight against corruption.
On Monday, September 11, he spoke at the 2023 Ghana Bar Conference at the University of Cape Coast.

"I accept to speak here in order to take advantage to once again place my government's record on corruption for public scrutiny.

"It will show that my government has taken arguably the boldest decision since Ghana attained independence nearly 66 years ago to reform and strengthen institutions to tackle corruption in the public sector."

Dr. Apaak argues that Akufo-Addo is out of touch with reality and has facilitated corruption, making it a social intervention program.

Corruption is at its highest in Ghana's history, leading to Ghanaians naming him a "clearing agent", he posited.
He added Amidu has christened him the "Mother Serpent" of Corruption, but Akufo-Addo has not challenged this assertion.

"Akufo-Addo certainly is out of touch with reality. He has enhanced and facilitated corruption. Corruption has become a social intervention program under his watch. In fact, corruption is at its highest in the history of Ghana under his watch. It's precisely because of this that Ghanaians have named him a "clearing agent." Has Amidu not christened him the "Mother Serpent" of Corruption? Has he challenged that assertion?"


Akufo-Addo is out of touch with reality. He is not aware he has ehanced/facilitated corruption: now a social intervention program under his watch. This is why Ghanaians call him a "clearing agent." Amidu says he is the "Mother Serpent" of Corruption, has he challenged that?

— Dr. Clement Abas Apaak (@DrApaak) September 11, 2023