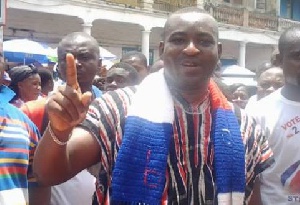 Campaign team for Mr. Bernard Antwi Bosiako, incumbent and aspirant in the Ashanti Regional New Patriotic Party (NPP) chairmanship race, have threatened to strip the license of a pastor for what they believe is a false prophecy about their boss, Wontumi's chances, MYNEWSGH.com's Ashanti Regional Correspondent, Kwabena Danso Dapaah reports.
"Let me put it on record that if Chairman Wontumi is retained after the election we will have to strip the license of Prophet Adu Boahene", spokesperson for the team, Daniel Duncan hinted.

According to him, the Kumasi-based man of God and founder of Christ Revival Baptist Church on countless number has made comments about political characters in the region which didn't happen, whether partly or wholly.

"He prophesied the current Bantama MP will die before the 2016 but what do we see now", the spokesperson quizzed.

"The so-called man of God does not fit to preach", he added.

Prophet Adu Boahene has said it would be very difficult for anyone to solve issues between the current Chairman of the New Patriotic Party (NPP) and his main contender Chairman Asare Bediako who are all aspiring for the Chairmanship position in the Ashanti Region.
This is not the first time the man of God is prophesying on issues around the party.

In a tape which MyNewsGH.com has, the man of God was heard saying earlier warning that the incumbent, Bernard Antwi Boasiako affectionately called Chairman Wontumi would lose his seat should Mr. Asare Bediako decide to contest the race.

He continued in his prophecy that some leaders of the NPP would persuade Mr. Asare Bediako to pull out from the race because his emergence will threaten the chances of the incumbent but said it will not happen.

According to him, if the former Chairman withdraws from the race, it would bring divisions in the party in the Ashanti Region which would lead to the party's loss in the 2020 general elections.

Information circulating on social and mainstream media indicate that Mr. Asare Bediako is yet to resign though he has come out clearly stating he won't resign from the race.