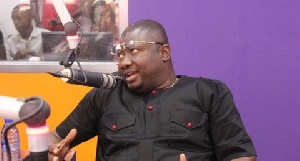 A deputy General Secretary aspirant of the National Democratic Congress (NDC) Kojo Adu Asare has said Lawyer Barbara Serwaa Asamoah and Peter Boamah Otukonor have not sealed their victory yet in the weekend election saying the two have no legitimacy to occupy the position as Deputy General Secretaries for now.
Kojo Adu Asare who's very bitter about the contest told sit-in host Akwasia Nsiah on Anopa Kasapa that the polls that saw the election of the two were not clean and has served notice he'll challenge it by all means, if the party decides to treat his case lightly.

"Whoever has been sworn in should know that the office is not yours yet, because somebody was fixed to make way for you because if I look at the likes of those who contested I don't know who amongst them could have beaten me, for the kind of job I have done, my support to this party , the places I have been and my contributions to this party and the things I have done, I enjoy so much support. The issues are contentious and so the person that was declared victorious should know that his the system can be challenged and for that matter he has no legitimacy in that office he's occupying," he said.

According to the polling agent of the former Member of Parliament for Adenta, the latter was given a raw deal by the election committee after it was established that a wrong name corresponded with Adu Asare's picture on the ballot paper during the elections.



His polling agent, named Delasi in an interview said despite raising objection over the development to the party Election Committee during the casting of ballot, the committee failed to act on their petition.
In that contest, Lawyer Barbara Serwaa Asamoah polled 3, 041 votes while Otukonor had 1, 816 votes to emerge the two Deputy General Secretaries.

Per the NDC constitution, delegates of the party are supposed to elect two Deputy General Secretaries who are to "assist the General Secretary in the performance of his functions."

In all, 11 aspirants competed for the deputy General Secretary position.