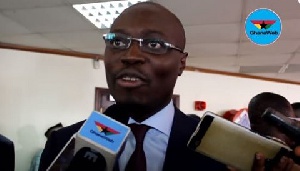 A former Deputy Minister of Finance, Cassiel Ato Forson, has accused the Nana Akufo-Addo-led government of collapsing the financial sector, and, thus, must take responsibility for the collapse of uniBank.
His comment comes on the back of Bank of Ghana's takeover of the management of uniBank.

Governor of the Bank of Ghana, Dr Ernest Addison, announcing the takeover at a press conference in Accra on Tuesday, 20 March 2018, assured depositors that their money is safe, stressing: "We're not liquidating the bank, we are saving it."

Reacting to this development on the Executive Breakfast Show (EBS) on Class91.3FM on Wednesday, 21 March 2018, Mr Forson, who is also the Member of Parliament for Ajumako-Enyan-Esiam constituency in the Central region, said government could have saved uniBank if it wanted to.

He told show host Moro Awudu that: "The government could have cleaned this up and saved this and saved jobs but what we are seeing, I think is not good enough.
"Nobody knows the motive, but I can tell you that I'm even aware of a bank whose position is worse than that of uniBank, yet that bank is walking today… They [BoG] are keeping them because they are giving them liquidity support so the government could have saved them [unibank].

"We are interested in the matter, we are going to issue a statement today, we want to know who authorised it. The central bank is not an island, Bank of Ghana is not an island, Bank of Ghana belongs to the state, they cannot take this decision alone, they will only generate a technical memorandum, they're being supervised by the Finance Ministry.

"If you recall, the Finance Minister once said that one of the difficult things he's done is for him to authorise the collapse of UT Bank and Capital Bank. Who authorised the collapse of uniBank today? The Finance Minister could not have taken the decision in a vacuum; he will have to consult the president of the republic, so, the government. So, my position is simple: the government is collapsing the financial sector. It is terrible; they are seeding it to private foreign companies…"