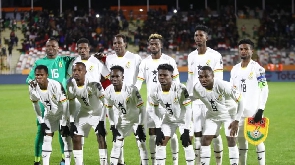 The Black Galaxies stand the chance of earning $2 million dollars if they emerge as winners of the ongoing 2022 Championship of African Nations (CHAN) tournament.
According to the prize monies announced by CAF, the level at which a team is eliminated will determine the money they will earn.

The US$2 million prize money for the winner, is a $750, 000 increment on the prize money given to the previous winner.

Ghana are in the quarter-final of the competition where they will face Niger on Saturday, January 28, 2023.

If they fail to get past their fellow West Africans, the Black Galaxies would earn $400,000 as prize money.

However, if Annor Walkers' side manages to progress to the semifinal without making the final, they will earn $500,000, which is the prize money for third and fourth-place teams.

The Black Galaxies would also walk away with $800,000 if they finish as runners-up in the tournament.
According to CAF, it has increased the prize monies for the 7th edition of the CHAN tournament by 60%, from $5,450,000 in the last edition to U$7,900,000.

Countries that finished third place in the group stages earned $300,000 each. The same amount as countries that placed second in groups of three.

Bottom-placed teams in all the groups earned $200,000.

Ghana are making their third appearance at the tournament. The Black Galaxies appeared in the final in their last two appearances, hence Annor Walker's side would be eyeing the trophy on a third attempt.

EE/SARA