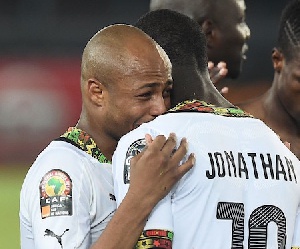 Ghanaians, not very unreasonably, are still reeling from Sunday's loss in the 2015 Africa Cup of Nations final to neighbours Ivory Coast. Still, there are positives aplenty to be drawn from a campaign which, to all intents and purposes, was anything but disappointing. Below, we point out five.
WE HAVE A NEW NO. 1

You might have issues with Razak Brimah's poor penalty-taking/saving methods as well as his bizarre matchday superstitions, but the 27-year-old surely appears to have made Ghana's starting goalkeeping role his. Some fine stops during Afcon 2015 as well as his cool yet assured presence behind the backline (which helped Ghana's hitherto horrendous defence to four clean sheets in six matches), along with some occasionally lacking level-headedness, might be all he needs to stave off competition from Fatau Dauda et al for good. Going forward, the Mirandés man could only improve. Hopefully, the game of musical chairs which had become of Ghana's No.1 spot prior to the Nations Cup ends here, now that we've found a fellow who looks like he could be in for the long haul should he keep his consistency and form up. Brimah is here to stay, and all - including Puma's kit designers, who seemed unsure of exactly which name to plaster at the back of his shirt at the Nations Cup and got the lettering all messed up - better warm up to that fact.

SHOOTOUTS WOULD KILL US SOME MORE

With Brimah's botched spotkick and Boubacar Barry's ensuing conversion, Ghanaians ticked off yet another penalty shootout the Black Stars have lost in recent memory; the fifth in as many major tournaments. It seems, for some inexplicable reason, that Ghana would have to endure such nail-biting, ultimately heartbreaking moments a little longer. Don't you just wish the latest were our last?

WE'RE STUCK WITH 4-4-2
Ghana's dismal opening loss to Senegal at Afcon 2015 ought to remain a muted footnote to the national team's adventures in Equatorial Guinea, given the considerably improved performances which followed. For at least one reason, though, it just refuses to go away. Against the Teranga Lions, Ghana woefully failed to adapt to the 3-5-2 new coach Avram Grant introduced. Instead, the Israeli's charges flourished as the system reverted to Ghana's 'traditional' 4-4-2 in subsequent games. It won't always work, granted, but it's what we seem to thrive on. Perhaps we should leave it that way, for better or worse.

2017's A REALISTIC TARGET

Ghana weren't mandated to win the 2015 Nations Cup. Even reaching the final itself probably wasn't exactly what the Ghana Football Association had in mind when it merely commissioned the 23-man squad to 'go and do well'. That the team took it upon itself to overachieve, then, is therefore a reassuring sign. By 2017 - when the GFA believes the Stars would have a more realistic shot at glory - most of the relatively young guns Grant called up for the just-concluded Afcon assignment would have matured, while two generations of U20s (the classes of 2013 and 2015) would likely also be coming through en masse. The future, considered from that angle, is quite bright. Expect a few more World Cup appearances, then, while that painfully elusive fifth Nations Cup crown could arrive sooner than you'd think. Blink not.

KEEP THE 'DINASOURS' OUT

On a weekend when Sulley Muntari and Michael Essien, starring for AC Milan, were being roasted by Juventus' midfielders in the Serie A, Mubarak Wakaso and Afriyie Acquah, against Ivory Coast, provided further proof why Ghana won't require the services of the Rossoneri pair anymore. Wakaso and Acquah, following their introductions for the ineffectual Agyemang Badu and Momo Rabiu earlier in the tournament, have shown Ghana's future doesn't need to be tied with its past; a past which Muntari and Essien are but mere memories of.