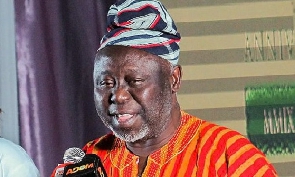 The Ghana Football Association (GFA) has announced that clubs in all divisions will observe a minute silence in honour of the deceased ex-GFA chairman, Alhaji Mohammed Nuru Deen Jawula.
The GFA in a statement released on their website entreated clubs in the Ghana Premier League, Women's Premier League, National Division One, Division two, Division three, and Juvenile sides to pay respect to Jawula before kickoff.

The leagues will enter their respective matchdays starting from January 27 to January 30, 2023.

Alhaji Jawula passed away on Saturday, January 21, 2023, at the age of 74.
He steered the affairs of Ghana football from 1997 to 2001. His reign saw the U-17 team place 2nd and 3rd in the 1997 and 1999 World Cups respectively, and the U-20 placing 2nd in the 2001 World Cup.

Until his death, he was the chairman of the Ghana Premier League Management Committee, a CAF Interclub Committee member, and a board member of GPL side, Real Tamale United.

EE/SARA