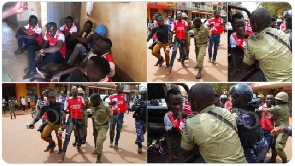 About 20 Ugandan Arsenal fans were arrested by police in the city of Jinja after Arsenal's 3-2 victory against Manchester United on January 22, 2023.
Even though the police have yet to comment on the offence, BBC.com reports that the jubilant fans were driving in a convoy when they were pulled over by the police.

One of the jubilant men, Baker Kasule, said that a police patrol vehicle pulled in front of them and asked each one of them to disembark and climb the patrol car, which was destined for Jinja Police Station.

"I don't know what we have done, but we were simply celebrating our victory over rival Manchester United," fan Baker Kasule is quoted as saying.

Arsenal are gunning for their first Premier League trophy in over a decade with manager Mikel Arteta roundly praised for the exploits of his very young and enterprising side.
Some of his African generals include Ghana's Thomas Partey, Eddie Nketiah - who is eligible to play for Ghana or England - as well as Mohammed El Neny who is Egyptian.

Arsenal's next game is against second-placed Manchester City.


#Uganda police arrest 20 @Arsenal fans for doing a trophy parade following the club's 3-2 win over long-term rivals, Manchester United on Sunday. pic.twitter.com/O1AjOLjKff

— GAROWE ONLINE (@GaroweOnline) January 23, 2023
NYA