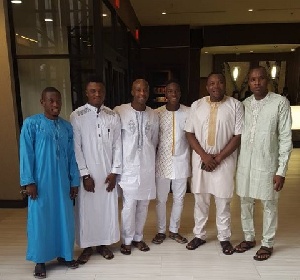 Members of the Black Stars had their Eid prayers at Masjid-ul-Mumineen in Houston, Texas on Sunday.
Players Abdul Majeed Waris, Rashid Sumaila, Lumor Agbeyenu joined assistant coach Ibrahim Tanko, kit manager Ishmael and Ghana FA spokesperson Ibrahim Sannie-Daara.

They later joined the African community to celebrate after the end of fasting.
The Eid Prayer was led by Ghanaian Imam Sheikh Qassim (white cap).

Ghana's squad are preparing to face Mexico on 28 June and the USA on 1 July.