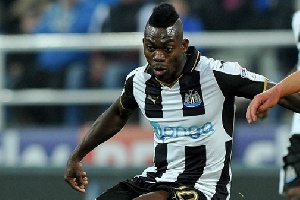 Christian Atsu has confessed that Ghana's underperforming players have a huge debt to repay to the suffering local fans after the team's disappointing 1-1 stalemate against Congo puts their 2018 World Cup qualification in tatters.
The 25-year-old Newcastle United winger, knows the race to the 2018 World Cup in Russia has been a terrible let-down for everyone connected with Ghana.

The Black Stars players were visibly choked by the raucous show of support from the home fans after their disappointing 1-1 draw against Congo in Kumasi on Friday.

And deep down they know they have let millions of Ghanaian fans down with faint hopes of qualifying to the global showpiece.

"It is true that we did not fighting for the nation because we have bad moment and good moment in life."
"And we understand that in football you had your bad moment and this is the bad moment the Black Stars are going through so we need their support and we are also fighting to get things right"

"Yea aahmm We the players understand that at this point we let the nation down but we also want the nation to know that we were fighting for them and it didn't go well for all of us."

The four-time African champions will hope to salvage their image ahead of the return leg against the Red Devils today (Tuesday) in Brazzaville.