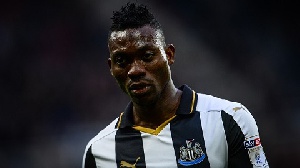 Christian Atsu's agent Nana Sechere has landed in Turkey as the search for the Hatalayspor winger continues following the tragic earthquake in Turkey.
Sechere in a tweet on February 9, 2023, confirmed his arrival in Istanbul, adding that the player has not been found.

"I am currently in Istanbul. The situation remains the same, Christian Atsu is yet to be found."

He added that until he gets direct contact with Atsu, he will not give further updates.

"Unless I see Christian, or speak with him, I have no further updates."

Christian Atsu and Hatayspor technical director Taner Savut have been trapped in the buildings destroyed by the earthquakes for close to three days, since the event on February 6, 2023.

There were initial reports about the Ghanaian being found but the Hatayspor Board Member, Mustafa Özat has denied the reports.
"I received information that Christian Atsu was rescued from the rubble, but it was NOT true."

"I gave the same information to the press, but at the moment, the information received is that Atsu and Taner Savut are under the rubble," Mustafa Özat said in an interview as quoted by EuroFoot.


I am currently in Istanbul.

The situation remains the same, Christian Atsu is yet to be found.

Unless I see Christian, or speak with him, I have no further updates. #prayforAtsu #PrayForTurkey

— Nana Sechere (@iAmNana7) February 9, 2023
EE/KPE