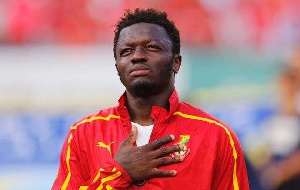 Astute Ghanaian legal luminary Egbert Faibile has warned the country's federation will be slapped with contempt of the High Court if remorseful Sulley Muntari is readmitted into the Black Stars.
Muntari on Tuesday apologized to the Ghana FA for his unruly behaviour in Ghana's camp at the 2014 World Cup in Brazil where he attacked and punched then Black Stars management committee member Moses Armah without any provocation.

He was thrown out of camp alongside Kevin-Prince Boateng ahead of Ghana's final Group match against Portugal.

Government's White Paper on the Dzamefe Commission of Inquiry which looked into the country's calamitous campaign advised against recalling Muntari.

And one of Ghana's finest lawyers Egbert Faibile has warned the Ghana FA will in contempt if it goes ahead to invite the Saudi-based midfielder.

"If the Ghana Football Association, Kwasi Nyantakyi or Avram Grant decides to call Sulley Ali Muntari back into the Black Stars it will be contempt since the adverse findings against Sulley Ali Muntari and KP Boateng still holds," he told Kasapa FM.
"I know the President of the Football Association is a learned fellow and knows this so the GFA will not do anything that will amount to contempt.

"The onus lies on Sulley Ali Muntari and his advisers to seek redress in a Court of Appeal to reverse the adverse finding if he wants a return to the team.

"Although the right of appeal should have been exercised within three months after the Commission's report, Muntari fortunately can fall on what we call "Special Leave to Appeal" to seek redress. Overturning the adverse finding that bans him from joining the team is the only way that can guarantee his return to the team even if the technical handlers agree to call him back because not even the President of the land can reverse any adverse finding after a white paper has been issued on a Commission of Inquiry's findings."

It read: "Government further advises that the two players should not be recalled into the Black Stars camp in order to maintain the discipline that appears to have been restored since Brazil 2014."

According to Article 280 clause 2 of the 1992 Constitution: "Where a commission of inquiry makes an adverse finding against any person, the report of the commission of inquiry shall, for the purpose of this Constitution, be deemed to be the judgment of the High Court; and accordingly, an appeal shall lie as of right from the finding of the commission to the Court of Appeal."
This means Muntari must go to a Court of Appeal to set aside those adverse findings before he can be handed a call-up into the team.

The Al Ittihad Jeddah ace has stated his availability to re-join the team if handed a call-up.

Already, Muntari's apology has split heads but this revelation should put the matter to sleep.