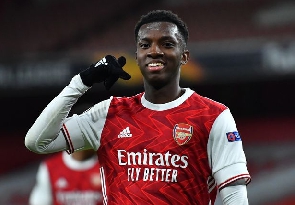 English striker of Ghanaian descent Eddie Nketiah has become the toast of Arsenal fans following his brace against Manchester United in the Premier League on Sunday, January 22, 2023.
Eddie Nketiah was at his predatory best as he scored twice from the six-yard box to give Arsenal an important 3-2 victory over visiting Manchester United.

Nketiah restored parity for Arsenal in the 24th minute when he thumped home a delicious cross from Granit Xhaka.

The 23-year-old grabbed the all-important winner for Arsenal on the stroke of 90th minute with a flick from Martin Odegaard's shot.

The two goals have shot up Nketiah's goal tally to 13 in 13 matches at the Emirates Stadium. The two goals also meant that Nketiah has scored 19 goals in his 26 starts for Arsenal.

It was his fourth Premier League goal since he replaced injured Brazilian Gabriel Jesus in the Arsenal line up.

The Brazilian picked up an injury during the World Cup and there were concerns that Arsenal were going to drop off but Nketiah has stepped up and is delivering on the big stage for Arsenal.
His form has caught the eye of former Arsenal midfielder and captain Cesc Fabregas, who has praised him for fantastic display against Manchester United.

Manchester United legend, Paul Scholes has likened him to Arsenal great Ian Wright and believes that the forward will make things difficult for Gabriel Jesus when he recovers from injury.

Arsenal fans are also drooling over his performance stating among other accolades that 'No Jesus, No problem'. They believe that Nketiah's form will save the club from spending huge on a striker.

Below are some comments


The highest of compliments for Eddie Nketiah ???? pic.twitter.com/UXgMjQR6BE

— ESPN UK (@ESPNUK) January 22, 2023
Eddie appreciation tweet.

Got a lot of stick from certain "fans" when he signed the extension and got the #14 shirt. He's worked his socks off, and is showing how valuable he is to this football club. Thank you for everything, @EddieNketiah9! ???????? pic.twitter.com/CoyeBF1op7

— Evan Cooper (@Lacazest) January 22, 2023
Had a premonition that this guy's going to have a stormer today. Go get 'em @EddieNketiah9⁩ ???????? pic.twitter.com/MQrZ9cr1mr

— Piers Morgan (@piersmorgan) January 22, 2023
Again..One of the best decisions Nketiah took was to hold on with his Nationality switch to Ghana..

Never made the WC lure him

He knew he was young and had the potential of making the England team

Surely he should be making the England team in the next call ups pic.twitter.com/X30pbVQBvg

— Frank Darkwah (@Blaqqkoffi) January 22, 2023
Arsenal were superb, especially in the 2nd half and deserve their victory. Their football has been a delight to watch. Nketiah has really stepped up in the absence of Jesus. As for Arteta, well, what an incredible job he's doing.

— Gary Lineker ???????? (@GaryLineker) January 22, 2023
Your defence is in trouble ???????? @EddieNketiah9 pic.twitter.com/K4Qxyolyi6

— Frimpon (@Frimpon) January 22, 2023
18 - Eddie Nketiah has scored 18 goals across his last 26 starts for @Arsenal in all competitions, including 12 goals in his last 13 starts at the Emirates Stadium. Claim. pic.twitter.com/eNWrSfDON3

— OptaJoe (@OptaJoe) January 22, 2023
Nobody deserves this more than Eddie Nketiah. So many people spent weeks insisting that he wasn't good enough even before he had a chance to prove himself. Beyond proud of him. One of us.

— Patrick Timmons (@PatrickTimmons1) January 22, 2023
May your apologies be as loud as your disrespect. Eddie Nketiah ???????? pic.twitter.com/bCD2wrH12Z

— Gunners (@Gunnersc0m) January 22, 2023
Arsenal's top scorer this season. He deserves all of the praise. He's routinely turning up when it matters.

Bravo, @EddieNketiah9!???? pic.twitter.com/H79TV5rQj7

— Connor Humm (@TikiTakaConnor) January 22, 2023
21st January 2007: Thierry Henry scores the winning goal in stoppage time as Arsenal come from behind to beat Manchester United.

22nd January 2023: Eddie Nketiah scores the winning goal in stoppage time as Arsenal come from behind to beat Manchester United.

Just #14 things. pic.twitter.com/2sKvVEsila

— afcstuff (@afcstuff) January 22, 2023
Clubs can search for the best part of a decade to find their number two striker, wasting tens of millions. It's such a hard position to get right. The faith Arsenal and Arteta have had in Eddie Nketiah is paying for itself.

— James Benge (@jamesbenge) January 22, 2023