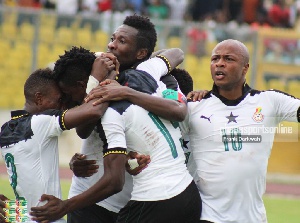 Ghana's government has come under international ridicule after Asamoah Gyan chartered a flight for players of the senior national team during a 2018 World Cup qualifier in Congo Brazzaville.
There have been global condemnation of the government's decision to trick the Black Stars into going into Brazzaville and then reneging on the promise to charter an aircraft to ensure players get back to their respective clubs in time.

Several top newspaper in the United Kingdom including the guardian, the Sun, Daily Mirror as well as other papers in the USA, Germany, Spain, France, Italy and South Africa amongst others have all condemned the action.

The Ghana captain Asamoah Gyan came to the rescue of the Black Stars by chartering a private jet to fly the players to Accra en-route to their foreign clubs to avoid sanctions after government reneged on its initial agreement.
With their onward journeys to start in Accra and the possibility of returning to their clubs by Friday which could draw fines on the players and also possible loss of their starting places, Gyan intervened to spend his own money to rescue his team-mates.

The 31-year-old is battling a muscle injury but defied all odds to travel with the team to Brazaville knowing very well that his presence will be a spring in the step of his team mates.

This is the first time in modern day Ghanaian history that a footballer has decided to use his own hard earned cash to hire a chartered flight for his team mates after a World Cup qualifier.