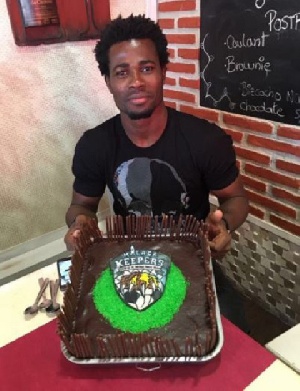 The former Mirandés shot-stopper has endured a frustrating spell at Cordoba where he made just three appearances.
He joined Cordoba in 2015 and has made 39 appearances in total.

He was left out Ghana's squad in the 2019 Africa Cup of Nations win over Ethiopia and the upcoming friendly against USA and Mexico.

Brimah has been capped 27 times.


¡Feliz cumpleaños @RazakBrimah! ???????????????? pic.twitter.com/ntN4BdwtFe

— Córdoba CF (@cordobacfsad) June 22, 2017
The Black Stars shot-stopper, Razak Brimah came under public backlash after he hurled insults on critics and fans of the national team he described as "negative people". He posted a video on Facebook where he was seen and heard spewing unprintable invectives on fans who he deems as negative and has been criticising his performance.

Brimah, deleted the video after some fans descended heavily on him, calling for his immediate expulsion from the team's camp in Gabon.

The Ghana Football Association (GFA), fined Brimah after incident but media reports revealed that the Spain-based goalkeeper has not paid the fine of $2,500 fine handed him for breaking Black Stars Code of Conduct, five months after the 2017 Africa Cup of Nations in Gabon.



Razak Brimah later apologized to Ghanaian's about his comments after deleting the video on Facebook
Fans of Razak Brimah have flooded his Twitter account with a number of Birthday wishes.


Hoy soplan las velas... ????????

Hugo Mallo (26)
Rodrigo (21)
@RazakBrimah (30)
@iriogp24 (30)
@francruz8 (26)
Manu (33)

???? ¡Felicidades! ???? pic.twitter.com/4pnQn9N31L

— LaLiga (@LaLiga) June 22, 2017
Hoy también cumple años @RazakBrimah ???????? ¡¡¡¡MUCHAS FELICIDADES GRANDE!!!!?????????

— Maria. (@mariaduque01) June 21, 2017
Muchas felicidades amigo! Disfruta de tu día con tu familia! Seguro que tus 3?0? vendrán llenos de éxitos @RazakBrimah! ???????????????? pic.twitter.com/RSHdAulKYb

— SamuCCF #Volveremos (@Samu_CCF) June 21, 2017
@RazakBrimah HBD bro .. All the best in sha allah ?????????? .. hoyyy no mañanaaaaaa jajaja

— zakarya bergdich (@zakaryabergdich) June 22, 2017
Happy Birthday @RazakBrimah Celebrating a life that has been full of challenges and progress, but that is what makes life worth living init? pic.twitter.com/IphVHNKiVL

— rahman osman (@iamrahmanosman) June 22, 2017
Happy birthday to you bro @RazakBrimah God bless your new age???????? pic.twitter.com/BmBTk9QFiN

— PSALMS 25?????????? (@TheRealNingala) June 22, 2017
Happy birthday Al Maalu Maalee @RazakBrimah
Stay blessed pic.twitter.com/NsZoNb9Gzc

— Sheikh Tophic Sienu (@DeSheikh1) June 22, 2017