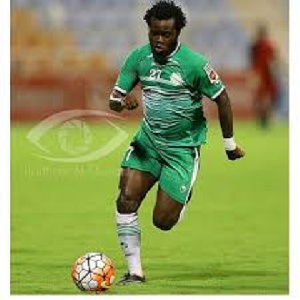 Ghanaian striker Hans Kwofie has rubbished bizzare reports he's being kidnapped in Tanzania.
The 29-year-old, who plays for Singinda United, is reported to have been kidnapped in the East African country, days after joining the club.

But the former Medeama and Ashantigold striker has expressed shock at the news as completely false.

' I am getting calls from all over the place with claims I have been kidnapped. I just can't believe it, he told GHANAsoccernet.com

'It's extremely laughable to say the least. It's a figment of people's imagination.
' Go and check the official twitter handle of the club. It was written in Swahili that I have started training and so I suspect whoever wrote the story missed the translation.

' I am here and training hard. I have not been kidnapped by anybody and so those reports must be disregarded. It's extremely shocking to me.

' Some people are too much in a hurry to feel relevant and that's problematic.' he fumed.

Kwofie finished the 2016/17 Ghana Premier League season as the goal king after hitting 15 goals.