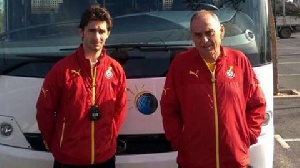 Former video analyst of the Black Stars, Gerard Nus, has warned the Ghana Football Association (GFA) he will not leave the country until the Ministry of Youth and Sports pays all monies owed him.
The Spanish trainer has been in Ghana for seven weeks since the senior national team returned from a disappointing fourth place finish at the 2017 Africa Cup of Nations (AFCON) held in Gabon.

Nus was paid by the Ministry of Youth and Sports (MoYS) last week for his services, but the Rayo Vallecano OKC coach said the amount paid him was less than what was agreed.
Speaking to Class Sports he expressed his dissatisfaction with the treatment and added that he was not leaving the country until all debts owed him were settled.

"The only way to get paid that amount [owed me] is if I'm here in Ghana, because…from Spain they won't reply a text nor return my calls. So when I'm here, I've at least the chance to retrieve the amount due me. It is one excuse after another. Even if I'm losing money (living here) I will not leave until I get this thing sorted out," he said.