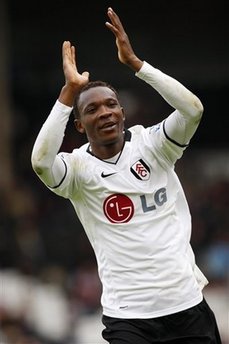 Wed, 10 Jun 2009 Source: 90 Minutes Newspaper
AFTER his outstanding contribution in the match that saw the Black Stars beat their Malian counterparts 2-0 in the Group D FIFA 2010 World Cup qualifier in Mali last Sunday, England based defender John Paintsil has warned the Desert Hawks of Sudan to be wary of the Black Stars threat as they host the Ghanaians on the 20th of this month in Omdurman. In an interview granted to 90 Minutes, the Fulham ace who was elated after the impressive win in front of a 60,000 capacity home crowd in Bamako said: "It was a great match and it was amazing to see how we put the smiles on the faces of Ghanaians. It's our duty to qualify Ghana for the next World Cup and any team that comes against us who must be careful because they would be meeting a very determined Ghanaian side," he continued.

"Sudan is next and we would play our hearts out to claim maximum points."


Paintsil also heaped praises on the entire team for playing well as they brushed aside the Malians. "The entire team did a fantastic job because it's not easy playing away to a team like Mali.

Essien was terrific on the pitch despite what he was going through. He was simply good on the day."


Though football is not a game of logic, Paintsil wondered how the Black Stars were going to falter in Sudan as another historic World Cup appearance beckons. "Anything can happen in football but I honestly don't see us losing in Sudan as we have another golden chance to send Ghana to South Africa." Paintsil was however full of gratitude to Stars captain, Stephen Appiah for his words of inspiration prior to the game last Sunday.

Source: 90 Minutes Newspaper