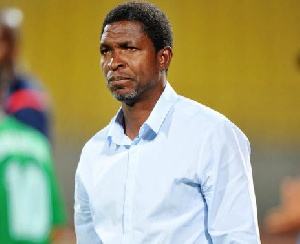 Ghana Football Association technical director Francis Oti Akenteng says the Black Stars could get a new assistant coach in the coming weeks depending on the FA's choice of head coach.
The football governing body is in the hunt for a new coach following the departure of Avram Grant, upon expiration of his contract last month.

A six-man committee has been mandated to recruit a new coach, with assistant Maxwell Konadu staying on as interim manager.

"Normally, coaches would want to appoint their own assistants but we have been appointing assistant coaches because we want our people to learn, that is if a foreigner is coming in," Akenteng told Class FM.

"But now that we are looking for a coach, we don't know if it will be somebody within [local] or somebody from outside, so why don't we wait?

"If the person appointed is [Ghanaian] and he also tells you that I'm going to appoint my own [assistant, then fine].
"But if he is going to come from outside, then definitely we will also want our people to learn on the job [under the expatriate]."

Konadu has been Ghana's assistant since 2012, having served under Kwesi Appiah and recently under Grant.

He has been widely criticised for playing a 'spectator role' in the dugout.

A host of local coaches, including Ibrahim Tanko, Otto Addo and Abdul Razak, have been named as possible successors of Grant.

Reports say Kwesi Appiah could also be back for a second time.