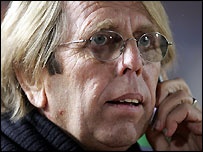 Wed, 31 Oct 2012 Source: Daniel Oduro
Former Ghana coach Claude Leroy says he deserves the credit for the development of Black Stars striker Asamoah Gyan who was recently named captain of the team.

Leroy who currently coaches the Democratic Republic of Congo says he was the only person who believed in Gyan when the whole of Ghana turned against the player during the 2008 African Cup of Nations which Ghana hosted.


"I made Gyan a better player; I am the one who encouraged him to stay focused when Ghanaians were insulting him. Now I hear he is captain of the team and I am proud of him," Le Roy, who was the coach of Ghana in 2008 added.


Asamoah Gyan has a reputation in Ghana where he is the guy you love and hate in equal measure. It would be recalled that in 2008 during the Nations Cup, a couple of poor performances on the part of Asamoah Gyan saw him at the receiving end of verbal abuse including extreme verbal abuse directed at his mother.


Asamoah Gyan who did not appreciate the abuse which was being meted out to him and his mother by fans, threatened to desert the national team camp. It took the intervention of the then sitting President John Kuffour to persuade him to continue with the tournament.

Two years later, Gyan had become an important player for the team, scoring three important goals as Ghana reached the grand finale of the Nations Cup (Angola 2010) for the first time in over a decade.


Gyan would later move from hero to villain as he missed a crucial penalty against Uruguay in the quarter finals of the FIFA World Cup hosted in South Africa, where had he scored, Ghana would have made history as the first African country to reach the semifinals of the prestigious tournament.


Gyan's problems were manifested once again when he missed another crucial penalty against Zambia in Gabon and Equatorial Guinea 2012. He temporarily retired from the national team after the last penalty miss but returned a few months again to assume captaincy of the Stars.


Gyan has promised to guide the Black Stars to glory come January 2013 when Ghana battles Group B opponents DRC, Mali and Niger in the preliminary stages of the tournament.

Source: Daniel Oduro