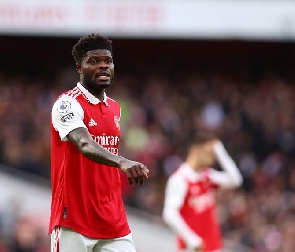 Rio Ferdinand has stated that Arsenal midfielder, Thomas Partey should make the Premier League team of the season after his brilliant performance in the 20222/2023 campaign.
Partey has been astonishingly good and found consistency in his performance, three seasons after his arrival in England from Atletico Madrid.

According to the Manchester United legend, Thomas Partey ticks all the boxes to be among the best 11.

"He is playing for the top-of-the-league team that will potentially win the league. Integral to that team so he is going to be in the shake-up for being in the team of the season 100%," he said on Vibe with FIVE podcast.
The 27-year-old has been immense for Arsenal and the team's struggle in his absence explains how integral he is for the club.

Partey is one of the many reasons Arsenal are leading the Premier League table with 11 matches to end the season. They are yet to lose a game with him on the field.

EE/KPE