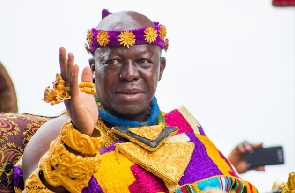 GHANASoccernet.com understands that the Manhyia has heeded to calls to suspend the naming the Board of Directors for Asante Kotoko which was scheduled for Wednesday, 27 May, 2020.
The Palace agrees it will be appropriate to allow the three-member committee complete its task before the names are revealed.

The Professor Nkansah Committee are to determine the culprit for any malfeasance and administrative lapses and also make recommendations for future guidance and directions of the club club.

They have heard from stakeholders including players, coaches and administrators (past & present).

Manhyia-owned Opemsuo Radio was expected to unveil the personalities but that has been put on hold.
"The question what happens if a board member is appointed by Manhyia and later implicated by the investigative committee?. The Committee will finish its work soon and make recommendations and that will be a guide,'' a source told GHANASoccernet.com.

"Moreover, football activities can only resume in July since the Ghana Football Association has a set a June 30 deadline to announce the future of the Premier League."

Asante Kotoko Executive Chairman Kwame Kyei's three-year mandate has elapsed and it is unknown if he would be named on the board.