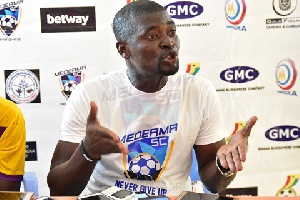 Medeama coach Samuel Boadu has explained in shocking detail the chain of events which led to the violent crowd trouble that marred his side's 1-1 draw at Aduana Stars on Wednesday.
Irate fans descended on referee Emmanuel Eshun and his two assistants, as play was interrupted severally during the crunch tie at Dorma Ahenkro.

Marauding thugs threw missiles targeted at the match officials and the opposing bench, leading to officials running for cover on the pitch over claims of unfair officiating.

The Match Commissioner and the bench of the opposing bench were hit with several stones from the stands, with the assistant's referees not being spared by the violent attack.

"It was a very nice game in the beginning, but everything started when our goalkeeper got injured. As per the normal protocol, he was receiving treatment on the field of play. Then the Aduana fans started protesting for the goalkeeper to be taken out" Samuel Boadu disclosed during a radio interview.

"This is not done anywhere, in any case, I was even preparing my second goalkeeper in case he couldn't carry on. It was at that moment that the supporters started throwing bottle water and stones towards our bench and officials, it was a continuous siege"
"Their reason was that they had placed bets on the outcome of the game and so they needed a win at all cost"

The Ghana FA will wait for reports from match officials and its match delegate before deciding whether or not to take the matter further.

Charges against clubs are usually filed within 24 hours.

The Fire boys are facing a potential stadium ban or a hefty fine if found guilty by the disciplinary committee.