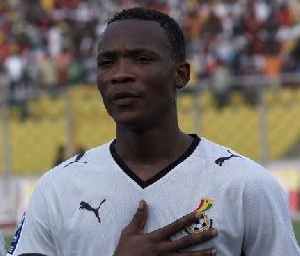 Tue, 14 Aug 2012 Source: --
John Paintsil has expressed his delight at the chance playing regular football again after completing a one-year contract with Hapoel Tel Aviv.
The Ghana defender returns to the Israeli side six years after leaving for the English Premier League and the deal is open to renewal for another year.

Paintsil had been inactive since terminating his contract with English Championship side Leicester City four months ago.

But with the chance of regular first team football now in sight, Paintsil says he is relishing his return.
"I feel great. It is always good to get home, the team helped my career a few years ago," Paintsil said on arrival.

"I'm excited to see the red fans. They are always amazing and appreciated my abilities.

"I love them and cannot wait anymore to see them."
Source: --